PRACTICE / TRAVEL CELLO
PRACTICE / TRAVEL VIOLIN & VIOLA
The most compact practice/travel instruments available
Humidity, heat, and cold resistant
Quiet, pleasant acoustic tone
VIOLINS and VIOLAS
Would you like to practice late at night? Have you wished
for a violin/viola that can go into your suitcase or backpack?
One of our instruments may be the answer. You can use it in a
hotel room or your apartment late at night and still keep the peace.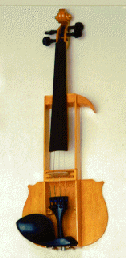 It's one less piece of luggage when traveling. And it will not come apart
in a humid environment, so you can use it in places where you would not
or cannot take your good instrument.

The practice/travel violin can be packed in a suitcase or backpack. The longest
individual piece is 15 inches long (16"-17" for violas). It can be assembled in
three minutes. It gets held and played just like an ordinary instrument.

The tone is pleasant and quite audible, but much more quiet than that of a regular violin.

The practice violin's body is made of wood (mostly spruce).
Neck, pegs, fingerboard, bridge, and tailpiece are all standard.
High-quality steel strings and an over-the tailpiece chin rest are furnished. Any of the usual shoulder rests may be used.

The disassembled parts are shown here. Strings remain fastened to the pegs and tailpiece to save time when the instrument is put together the next time.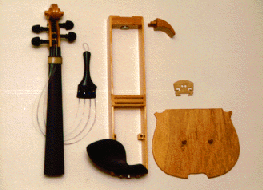 The assembled violin can, of course, be carried in a normal case. It is shipped (disassembled) in a sturdy cardboard box.
What about the bow? A full-size violin bow is, after all, over 29 inches long. There are several solutions:
* We can furnish a take-apart bow -- it comes in two pieces which fit together in a few seconds.
(This is a fiberglass bow with horsehair).
* If you are traveling with a large enough suitcase, a regular bow may fit. Or you might use a 3/4 size bow,
which is about 27 inches long.
* You can take your regular bow in a bow case.

NOTE: Production of practice/travel violins has temporary ceased. Cellos ( below) are still being made.


What does it cost? The prices (not including shipping) are:
Violin $495 Take-Apart Bow $85
Viola $535 Take-Apart Bow $95


A few unsolicited comments from owners of a practice violin or viola:
"I received the travel violin in perfect condition. It surpasses all my expectations concerning quality,
playability, and ease of assembly."
"The travel violin has turned out to be just what I needed, and I am very pleased with it. It has often been
difficult for me to carry a regular instrument on business trips ... The travel violin fits easily into my
overnight case ... I found setting up the instrument very easy."
"The violin is lovely looking, and assembly was quite easy. The directions are very clear. The sound quality
is unique and interesting ... the volume is great for practice, loud enough to hear but not loud enough to
bother anyone.
"I tried out my new travel viola. I love it! I told my husband I would go on a business trip with him only
if I get time to practice. And guess what I am packing in my suitcase..."
PRACTICE /TRAVEL CELLOS
The Prakticello was designed for amateur and professional cellists for trips on which they don't need or don't want
to take their regular cello but would like to keep the fingers nimble, or would like to practice with minimum
disturbance to others -- in a hotel room, in an apartment, in the office, or anywhere else.
The instrument feels just like an ordinary full-size cello and is not "silent" but has a quiet, pleasant, acoustic tone. The body is made of fine spruce and
comes with high-quality steel strings. It has a tailpiece with four fine tuners as well as a standard bridge, end pin, and fingerboard. The finish is a mellow light-colored varnish.
All parts fit into the lightweight carrying case which goes into an overhead compartment on an airplane (but please see
the note, below) or into the trunk of the most compact car. Dimensions of the case are 5.5 x 6.5 x 30 inches
(14 x 17 x 76 cm). Instrument plus case weigh barely 8 lb (3.6 kg).
To assemble and tune the Prakticello takes four or five minutes; to disassemble it even less. The neck slides away
from the body after one loosens the strings and removes a single wing nut. For ease of re-assembly the strings
remain attached at all times to the pegs and tailpiece. The endpin gets removed completely when disassembling the instrument, so that it can be placed in one's checked baggage if necessary for air travel security.
Can it be amplified? Yes -- with a transducer (pickup) attached to the bridge and connected to a music amplifier, the
Prakticello produces the full sound of a decent acoustic cello. Suitable transducers are carried by many music stores.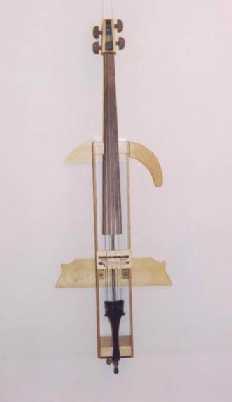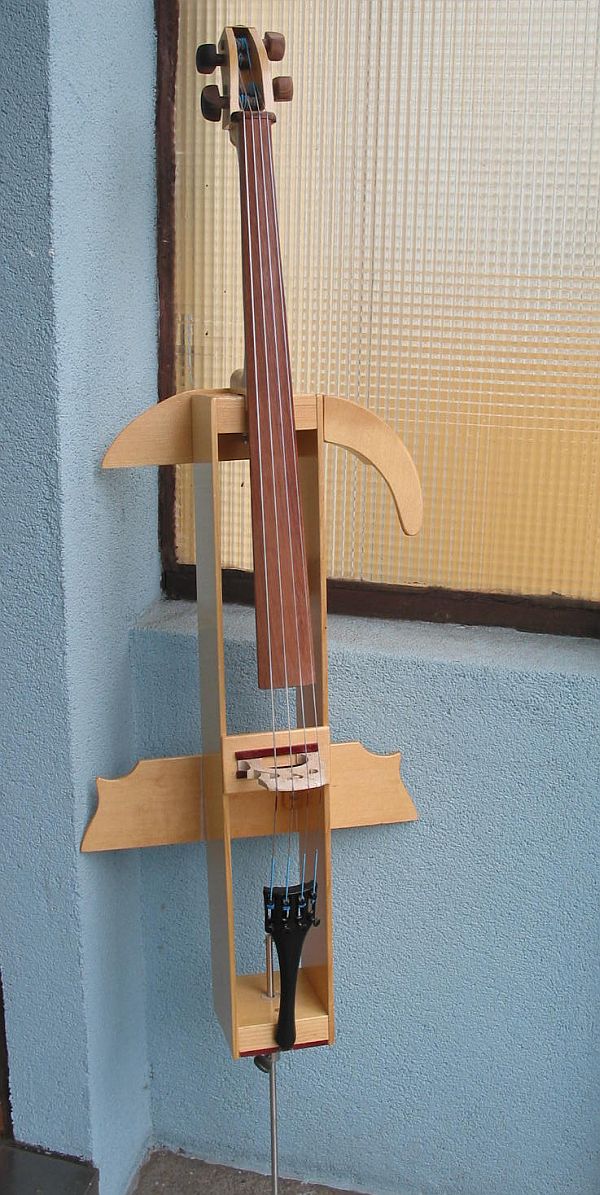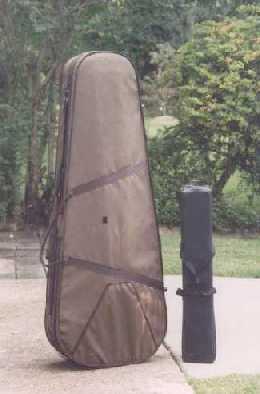 The Assembled Prakticello Regular Cello Case vs. Prakticello Case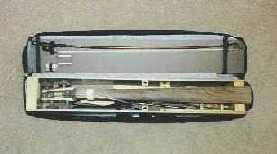 All parts of the disassembled Prakticello fit into
the carrying case. (The fingerboard appears to
extend beyond the case, but it does fit in.) There
is a place for storing your bow, and room is left
over for an end pin stop and other accessories -
even a piece of music and your music glasses.

Please Note: The Prakticello case fits easily into the overhead compartments on
airplanes. Some airlines are making it quite difficult to bring "over-
size" items on board (some have forbidden violin cases!) Hence
there can be no absolute guarantee that the Prakticello will always
be "carry-on." However, the instrument is less likely than a reg-
ular cello to suffer damage if checked into the hold.

The Cost: Price of the Prakticello is $1450 (plus shipping)

There are many practice/travel cello owners in various parts of the world, including number of
famous professionals and teachers such as Yo Yo Ma, Frans Helmerson, Heinrich Schiff, Irene Sharp, and Joel Krosnick Many of them have written to express their satisfaction with the instrument:
"My Prakticello arrived a couple of hours ago. Great instructions, easy to set up, everything fits well -- and it's much closer to playing a real cello than I had imagined. I like it a whole lot better than the Yamaha Silent Cello I've tried. I'm a very happy camper."
"Your Prakticello makes an enormous difference to my "pursuit of happiness" in the summer. I practiced two hours a day and suffered no panic about getting out of shape ... it enabled us to stay in the mountains until two days before the orchestra season started." (From a professional in Switzerland who owns a cabin high in the Alps that's accessible only on foot.)
"I just wanted to let you know how pleased I am with the Prakticello ... Your instructions were the best ... I just love the instrument, not only for its portability but also for the fact that it doesn't bother others when I play it."
(There are many more such testimonials, but modesty forbids listing them all.)


Please visit our new website
FOR MORE INFORMATION, OR TO ORDER,

In July 2010 there appeared on National Public Radio's "All Things Considered" an interview with Ernest Nussbaum discussing the Prakticello. The interview can be seen/heard on the web site indicated below, which also includes excerpts of music played on the instrument.
http://www.npr.org/templates/story/story.php?storyId=128358371 Another excerpt is at http://www.youtube.com/watch?v=HrXYoH_SIys
And the following link is to a "vimeo" which includes views of how one assembles the Prakticello
8